vol.3 Tohoku Gakuin University

February 28, 2014
Dr.Gouhong WU is a professor of Electrical Engineering in Tohoku Gakuin University. His recent researches include the effect utilizations of renewable energies and development of a microgrid system, which may facilitate the large-scale introduction of renewable energies.
His studying and working experiences in China and Japan lead to his teaching policy that if we thought about the things for people at all times, we could also gain the understand from the person of any other even if we have different culture backgrounds.
He disclosed to professor Kita (Hokkaido University) the reason of studying electrical engineering, why he chose a university in Japan, how the university was he studied and why he decided to be a professor in Japan.
PROFILE
March 1994

M.S. in Electrical Engineering, Tianjin University, China

September 1997

PhD. in Electrical Engineering, The University of Tokyo and Tianjin University

October 1997

Research Associate and JSPS Research Fellow, Department of Electrical Engineering,
School of Engineering, The University of Tokyo

April 2001

Assistant Professor of Chair Course, Graduate school of Engineering,
Course of Electrical & Communication Engineering, Tohoku University

April 2005

Instructor, Department of Electrical Engineering & Information Technology,
Faculty of Engineering, Tohoku Gakuin University

April 2006

Associate Professor, Department of Electrical Engineering & Information Technology,
Faculty of Engineering, Tohoku Gakuin University

April 2011

Professor, Department of Electrical Engineering & Information Technology,
Faculty of Engineering, Tohoku Gakuin University
Why did you think you would study electrical engineering at a university?
Please tell me the reason.
From childhood, electric power energy and electrical apparatus have been attractive for me even I could not well know their internal structures and how it operates at that time, because they can be used for a variety of purpose in our normal life. As a child, I've been simply wanted to contribute to society in the future by acquiring such technologies and creating new products for serving our life. So, I applied for majoring in computer engineering and electrical engineering when I entered the university.
What did you study at the university in China?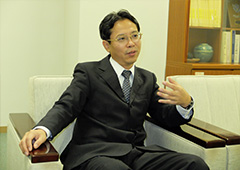 In the Department of Electrical Engineering of Tianjin University, students were able to choose their major from four categories (Power System and its Automation technologies, Power Equipment technologies, Electrical and Control technologies and Measurement and Communication technologies). Since the image with the word of "power" fit in what I wanted to do, I chose the Power System and its Automation technologies, in particular, the power system protection relay system.
Why did you think that you would study in Japan?
First, I didn't think deeply to study abroad. Rather, I wanted to study more about the power system and automation technologies in the PhD course. At that time, there was an exchange student program between the Chinese government and the Japanese government, in which 40 doctoral course students were selected in both countries and sent each other. I applied for that program and was lucky to be selected, and that is why I came to study in Japan. For this reason, it was not at all thinking about studying abroad in the other countries such as Europe and the United States. In addition, from the field of study MSc for me, there is no hesitation at all to learn the power engineering in Japan.
Was there any anxiety about studying in Japan?
It was the language that I was worrying the most. Since I've been thinking that technologies in Japan are well developed and extremely strong, the chance that I can study in Japan was a great honor for me. However, I didn't understand Japanese really at all, so I was very anxious. Fortunately, Ministry of Education in Japan had made a preliminary school of Japanese in China in accordance with the program of exchange students. And I could study Japanese for one year in that place. It was getting to be quite understandable for Japanese technical papers, though it was not possible to fully conversation.
Please tell us about your research theme for PhD.
When I started my doctoral research in 1995, researches about FACTS (Flexible AC Transmission System) which was proposed by EPRI in the United States in 1989 have been actively carried out in my laboratory of the University of Tokyo. I was also very interested in this technology and decided to work on this research as a theme of my doctoral thesis. The research topics were how to design the control system and how to select the optimal installation location of FACTS devices for improving the stability of power systems.
Could you tell us a bit more about FACTS?
FACTS devices can be simply understood as innovative power apparatus which are adopting the most advanced power electronics technology. And they can improve the conventional passive AC power network to active power network depending on the application. FACTS devices are composed from many types of apparatus including the SVC (Static Var Compensator), the STATCOM (Static Synchronous Compensator), the TCSC (Thyristor Controlled Series Compensator), the HSPS (High Speed ​​Phase Shifter), and the UPFC (Unified Power Flow Controller) , and so on.
Did you make tools for simulating dynamic phenomena of power systems including FACTS devices by ​yourself?
Yes. Now, there are a variety of simulation tools that can be chosen for such studies, but at that time, there was no proper simulation tools for such purpose and we have to made them all ourselves. In particular, in order to simulate the operation of FACTS devices, operation and control of these devices together with power systems and generators have to be modeled in detail. That was very difficult for me. Even now, I still remember that when I couldn't go well, I was thinking often that of research even in a dream.
Did you read a lot of literature written in Japanese?
Yes. But, I believe in the case of technical papers that there is no ambiguity in understanding, that is, to understand 100% is important. That was most difficult for me when reading the literature of Japanese.
Did you discuss the research with your laboratory members in Japanese?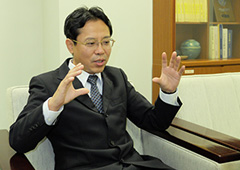 Yes. In the first time, I had a hard time because I couldn't exactly express and present what I am considering with my poor oral Japanese when we have the regular week meetings in our laboratory. However, I think many things have been obtained by overcoming these great difficulties at the time of start on the contrary.
Please tell us the funny memories in the laboratory.
Strongly feeling to contribute to the development of power technology, I was very happy to conduct research from morning till night. First time around, In spite of I could not speak well only poor oral Japanese, Prof. Yokoyama, the staffs, the student tutor and the other members in my laboratory helped me gently. In addition, research facilities were also in place, I thought that it was a perfect environment for study. Other, I looked forward very much every time a drinking party in our laboratory that many visiting researchers also participated. I learned there a lot of Japanese words and cultures which is not used in the usual research.
Why did you get a job at a university in Japan?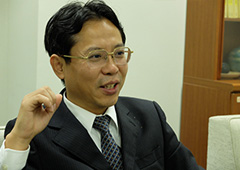 I've been thinking to become a teacher of the university from the beginning. As a young student like the others, I was full of confidence and even overconfidence with myself at the time when I graduated from graduate school. I just thought I would want to work at a top-class university that can show the most of my ability anyway. So, regardless of location such as Japan or China, I thought I would like to work for a place where I can achieve results if my best.
You mean that the difference of the country was not important for you at that time.
That's right. Even now, when I educate students, I am not paying much attentions to the matter of nationality, both of mine and my students. I believe that as a professor, the most important thing is to be responsible for the education of your students, no matter with whether your students and you are the same nationality. If we are always aware of the nationality, we will not be able to execute the real education.
Could you tell us about the current research themes of your laboratory?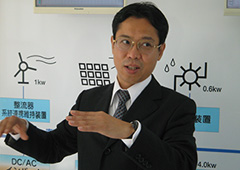 There are a number of themes related to the effective use of renewable energy. In addition, we have also studied power electronics circuit of energy storage system, FACTS devices, self-excited DC transmission system (HVDC), electric vehicle motor, and their control technologies. Moreover, we have also investigated the effect of introducing superconducting generators to the electric power system. Recently, we have studied the DC transmission and FACTS devices corresponding to the large-scale introduction of renewable energy power generation. For example, there are some studies for developing hybrid micro grid system or DC power transmission technology for offshore wind power generation. Also, there is also a research theme on FACTS devices for system stabilization corresponding to the large-scale introduction of renewable energy. In addition, we have been also studied technology for forecasting, controlling and saving power from renewable energy generation.
Please tell us about the impact of renewable energy on power systems.
If a large number of renewable energy is introduced into power systems, new problems such as uncertainty and instability would occur to the conventional stable power system. E.g., with the power transmission system, there are problems of how to deal with the surplus power from renewable sources, and the frequency adjustment and transmission capacity management may become difficult as well. In addition, it is considered that the percentage of residential solar power becomes higher in Japan. In this case, several problems such as harmonic problem, reverse power flow, voltage fluctuation and phase imbalance will emerge in the distribution system. I think that how we should deal with these problems using the power electronics technology and power system control and management technology is a big challenge.
How does the study on electrical engineering in university help your present work?
I think that I was able to obtain the knowledge and skills related to electric power engineering throughout the study in the universities. And it has been utilized directly to the current work. In addition, the skills involved in ways of research, procedure and experience for teaching students that I have learned from my supervisor and laboratory is greatly facilitating my current works.
Do you think it was good to learn electrical engineering?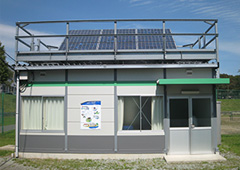 Yes. I think that through the previous 3.11 big earthquake many people have understood that power and energy is an important technology that makes the foundation of society. So, I am very happy I could have the chance to do my best to contribute to the development of this technology.
Please tell me what was good for you in terms of studying and working in Japan.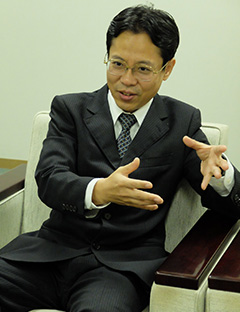 They are increase of technical knowledge, expansion of life experience, understanding of different culture, sense of accomplishment and satisfaction obtained from education of students and execution of research.
Please tell me what you have trouble in reverse.
Sometimes, there were troubles in subtle communication due to differences in culture, language and customs. I'm thinking that there is no silver bullet to overcome it. But, if we do what we believe to be right, while having thought such as "we love people" or "we think about the things for people", I think that we could gain a better understanding of the person of any other.
What research do you want to do in the future?
I'd like to bring up excellent students with global thoughts and enough technical capabilities and knowledge as much as possible. And, I hope that they will contribute to the future of Japan and also the world. In addition, I would like to continue efforts through education and research and development to improve or maintain the environment of the earth.
Finally, please advise those who want to work in Japan or who want to study in Japan.
Please fully experience the delicacy, depth of Japanese culture together with a taste of the delicious Japanese food. In addition, I evaluate that the Japanese electrical technology continues to pursue the best one without compromising even for a small part like Japanese food. I think Japanese technology is a technology that takes care of the quality and reliability, though sometimes lack of glitz. I expect those who want to work in Japan or who want to study in Japan to learn this all means.
Thank you very much for today's interview.