vol.2 CHUBU Electric Power Co., Inc.

June 28, 2013
Dr. Suresh Chand Verma has been engaged in R&D studies concerning power system analysis.
He disclosed to us the reasons of studying electrical engineering, and coming and studying in Japan, as well as deciding to work in Japan.

PROFILE
Suresh Chand Verma received M.E. degree from IIT Roorkee, India, in 1986. He completed his Ph.D. in Electrical Engineering from Nagoya Institute of Technology, Japan, in 1994.
Before coming to Japan, in 1990, he has been working in an electric power company in India. In 1994, he joined Chubu Electric Power Co., inc. Nagoya and since then, he has been engaged in R&D studies concerning power system analysis. He received IEEJ Excellent Presentation Award in 2003. He is a senior member of IEEJ, and a member of IEEE.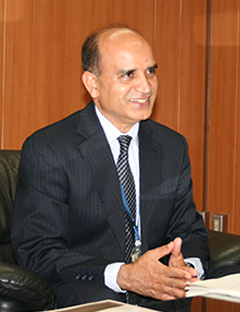 First of all, could you tell us the reason for having thought that you would learn electrical engineering at a university?
Electricity is an indispensable form of energy not only in our daily life, but also in running important infrastructures, such as hospitals, transportation system, and industries, etc. in society. For this reason, I was fascinated by this technology and became very much interested in to learn about right from my childhood.
Please tell us about your research theme in a university.
I graduated from the department of Electrical Engineering of Panjab University, and then worked for a while at a company in India. After that, I entered the graduate school of Roorkee University (now IIT Roorkee). My research theme was a study on control of the hydroelectric power plants using an Intel 8085 micro-processor kit.
Please tell us more about the research for controlling power plants using a microprocessor.
It was a research for starting up or shutting down hydroelectric power stations automatically using a computer instead of the conventional manual operation. More specifically, it was a research for automatic starting and synchronizing (connecting) generators to power system.
Please tell us more about the automatic synchronizing of generators.
To connect a generator to power system, the speed (frequency) and voltage of the generator must be closely matched to those of the power system. Furthermore the rotor angle of generator must be as close as possible to the instantaneous power system phase angle prior to closing the circuit breaker to connect the generator to the power system. Conventionally, it was operated manually. The purpose of my research was to develop a device to start and synchronize generator automatically using computer.
By utilizing the computer, the burden for synchronization was improved dramatically?
That's right. The smooth synchronization would be able to contribute to reduce the damage to the generator and to extend the life of the generator. In addition, through this research, I found out that applying computer to various power system operations which have been done manually would be very effective.
You worked at electric power company in India for about seven years after graduation. Please tell us characteristic of the Indian power system.
In India, the importance of electricity has been increasing. The Indian government is promoting the construction of new power plants. Currently, the ratio of hydro and thermal power plants is about 7:2. The share of nuclear power plants and renewable energy has also increased little by little over the recent years. Also, in those days the power systems have been operated by "vertically integrated utilities" in which a single utility is used to handle all functions of generation, transmission and distribution within a certain geographical area. But, liberalization of the electric power industry was started somewhere around 10 years ago. In some states, the electric power industry has been completely unbundled into generation, transmission and distribution sectors. In addition, the power transmission company on the national level (Power Grid Corporation of India Limited) manages and operates major power transmission system of the whole country.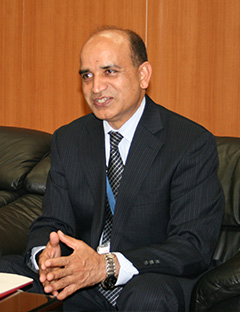 Please tell us more about how you decided to study in Japan.
I read in the newspaper an advertisement about a scholarship on a theme of "microprocessor" between the Indian government and the Ministry of Education of Japan. I studied the microprocessor in the graduate school and also, I was doing a project on microprocessor applications in the electric power company in India. So, I decided to apply for that scholarship.
Didn't you think to study in countries other than Japan?
I have had an image that Japanese technology is outstanding in the world. So, I wanted to come to Japan if there is a chance.
How about your Japanese at that time?
I knew only "sayonara" (good-bye) when I came to Japan. Also, I was not able to communicate with Japanese people in English easily because my English pronunciation may not be understandable So, I studied Japanese language for six months at Nagoya University. As a result, I became able to speak somehow, but hearing of Japanese was still difficult for me. I could understand only about 50% to 60%. In particular, it was hard to understand the word "chotto". For a foreigner, it is not clear whether the meaning of "chotto" is Yes or No. I was surprised when I saw the Japanese people communicating easily only with "chotto".
Now, your Japanese is really very fluent.
An online dictionary is very convenient for me because with help of online dictionary I can understand how to read Japanese Kanji and its meaning easily. I can read documents written in Japanese as long as that document is related to electricity, or power system area To be honest; I have been promoted to team leader from the 1st July 2012. So, now my main job is to manage resources to produce good and effective results, and I am always reading, checking and writing some Japanese documents.
How was the Japanese food for you?
I had a hard time because I was not comfortable with the unique smell of soy sauce, when I first came to Japan. I do not care at all now.
Please tell us about postgraduate study in Japan.
In Japan, I entered Dr. Nakamura's laboratory of Nagoya Institute of Technology. I proposed to the professor a research theme on the generator control using a microprocessor, but the professor said that the research on the generator control is not new in Japan, as this area has already been explored. Therefore, I decided to do research on power system operation using the new processor called DSP (Digital Signal Processor). More specifically, that is a study how to apply the DSP for power system analysis and how to calculate the state of power system considering its characteristics.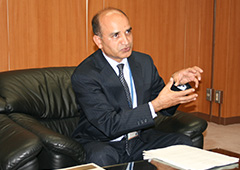 Are there any memories in the laboratory?
The professor was very strict. There used to be a seminar once every 2-3 weeks to report your results concerning your research. There were some students in the laboratory who used to study very hard but only just few days before the periodic seminars.
It is credible that you were able to get Ph.D. in three years since you came to Japan.
I think the research in the graduate school in India was very useful for me. Also, the professor suggested surveying the current status of research in the library. I have investigated it for about two months. All these things helped me to speedup my work in Ph.D.
Why did you think of getting a job in Japan?
I was thinking to return to India first because I could work in the Indian power company. However, I could not experience the real feeling of technological strength of Japan just by doing the research in the university only. I thought that the superior technologies of Japan must be in the Japanese company and I thought to work in a Japanese company for 1-2 years. In addition, the environment in Japan was highly suitable to me, as there was a freedom to do a variety of research work and there was a technical environment available where you can consult with any manufacturers and/or universities.
Didn't you consider employment in electrical manufacturers?
I also visited the institute of manufacturers through the introduction of my professor, but I had an experience of the power company in India. And because I was going back to India, I decided to work at Chubu Electric Power Company that has been doing joint research with the Nagoya Institute of Technology.
Was there a system to adopt doctoral students in the Chubu Electric Power Company?
Electric Power Research and Development Center of Chubu Electric Power Company has a system for employing specialized researchers. I was also employed under that system. In this system, you will be able to work in the laboratory all the way. Now, many specialized researchers have a doctoral degree. In fact some researchers with Master's Degree completed the degree of Doctor after they have joined the company.
Do you have foreigners in the Electric Power Research and Development Center?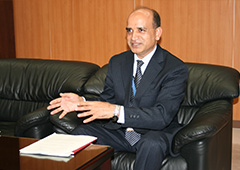 Some Chinese are working in the international division.
Please tell us about your current work?
We have been doing research to maintain power system stability even if a large amount of photovoltaic power sources were introduced in power system.
How does large penetration of photovoltaic power sources relate to the power system stability?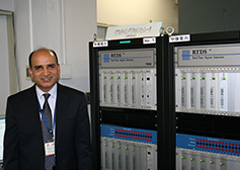 Many of grid-connected generators have a capability of being able to keep in synchronism even if state of the power system have changed largely due to fault occurrence. This capability is called synchronizing power. This capability is important in maintaining the Power system stability However, if the large amount photovoltaic power sources are introduced in power systems, the synchronous machines with the synchronizing power have to be shut down to maintain the power balance between supply and demand. The photovoltaic power sources do not have the synchronizing power. So, power system stability is going to be affected adversely.
Please tell me about your most impressive episode.
I could understand that power system can be analyzed quite accurately by computer simulation, however when the results obtained by computer simulations carried out using a program developed by us, and the results were fairly consistent with those measured in the field, it gave me immense pleasure. In addition, I have been asked to analyze the cause of the relay that has tripped in real system. From the analysis based on computer simulations, it was found that the induction machines on demand-side are supplying fault current after the fault occurrence. Till that time, we didn't have concept that the load can supply the fault current. I was very glad that the cause was found out by computation analysis. Now, this analysis is being utilized for relay setting.
How have your research in electrical engineering in college been utilized to your current job?
I can image relationship between phase angle and power system state because I did research on the power flow. Although the concept of a phase angle is difficult, I think that this image is very important. Recently, the students treat this system analysis portion as a black box. In such a case, even they would be able to work to some extent, but they would not know what they should do when something happens or goes wrong.
Can you tell us what merit you were able to get by learning electric engineering?
Electricity is the basic energy of modern society. Also, it has characteristics of be clean, fast, and easy to transport and easy to control. I feel fortunate that I could involve in this kind of technology even now. In addition, since I live in the all-electric home, if electricity is lost, I will be in trouble very much. However, I haven't experienced the black out for 21years in Nagoya even for a fraction of second. So, I think reliability of Japanese electricity is very high. Because electricity is an important energy, the supply reliability must be maintained.
what merit did you feel in terms of study and job in Japan?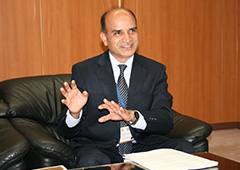 I think the team work is worth learning from Japan. Here in Japan many different individuals, support each other to achieve the best performance for their company. In addition, I was supported by a number of people in Japan. I could become a member of committee in the international conferences abroad, such as CIGRE. So, I was able to meet a variety of people.
Finally, do you have any advice for students interested in studying in Japan?
I think you can learn very much in terms of technology and culture from Japan. I think that it will be useful for you to learn Japanese customs. I think that it is not an exaggeration to say that Japan is an ideal country.
Dr.Verma, thank you very much for today.